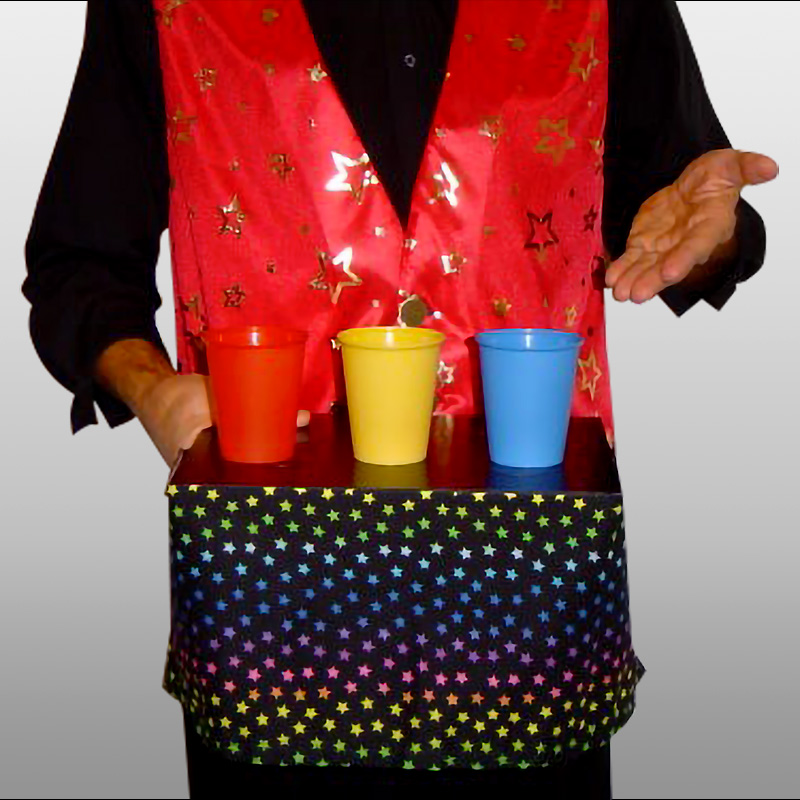 The magician holds a small tray with a drape and explains that he is always searching for his magic wand inside his prop case, so he decided to have a wand holder built and here it is. He places the wand upright in the right side holder and says that now whenever he reaches for it, it will be right there. As he says this, just before his hand gets to the wand, the wand falls out of the holder and onto the floor. He does it again and it falls again. Now he decides to put it onto the left side holder, but this time when he reaches for it, it drops out the bottom and onto the floor.
He decides to forget about the wand holder, puts the wand away, and takes off the two block holders. He is going to do a great trick and shows three plastic cups and while setting them onto the tray, first the red one falls off, he replaces it and it falls again. Now the other two fall off the tray in utter pandemonium. The magician gets rid of two of the cups, places just one on the tray, pulls off the drape and covers the cup. He lifts the cup off the tray under the drape, and now the tray says "Watch" with an arrow pointing to the cup, and the magician tosses the drape up into the air, and the cup has vanished.
As the magician takes a bow, the cup is seen stuck to the back of the tray to the children's delight.
Comes complete with gimmicked tray, gimmicked drape (color of drape may vary), cups, wand, and complete instructions.
---
Check Availability:
This email address is being protected from spambots. You need JavaScript enabled to view it. Call Kandu
You may also be interested in these products