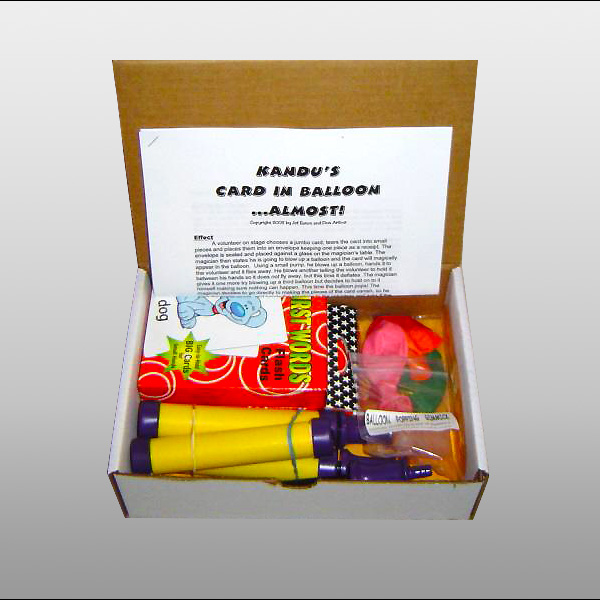 Card in Balloon... Almost
A volunteer on stage chooses a jumbo card (very cute first word cards for kids) and tears it into small pieces keeping one corner for a receipt. The pieces are placed in an envelope and laid in full view.
The magician states that he will make the card vanish and appear in a balloon. He uses a small pump to blow up the balloon and when handed to the child it flies away. He blows another one but this one deflates in the child's hands. The magician blows up a third and holds it himself for safekeeping but it pops.
The magician decides to go directly to making the pieces of card vanish so he says the magic words and asks the child if the envelope is empty. The child says "NO." He reaches in the envelope and pulls out a piece of paper that says "Look in the Balloon" but all the balloons have broken.
The child finds one more balloon in the envelope, so the magician tries to blow it up but nothing happens. He tries again but the plunger of the pump flies high into the air. He puts it back in but it flies out again.
"Something is pushing this thing out" says the magician, so he takes off the end of the pump and to his surprise (and the audience's), there is the chosen card fully restored except for the missing corner that the child has had.
The piece fits perfectly. It is indeed The Card in Balloon... Almost!
Comes with the gimmicked pump plus two ungimmicked pumps, the cards, signs, balloon popping gimmick, the gimmicked envelopes, and full instructions.
---
Check Availability:
This email address is being protected from spambots. You need JavaScript enabled to view it. Call Kandu
You may also be interested in these products