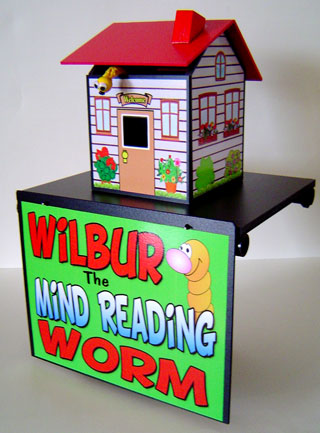 Wilbur the Mind Reading Worm
The magician introduces the audience to Wilbur the Mindreading Worm showing a tray with a sign hanging from the front of it, and a small house where Wilbur lives. As you are talking, one end of the sign falls off. You put it back on only to have the other side fall off. Hmmm, maybe the velcro isn't strong enough. Now the whole sign falls to the ground.
After putting it back on, the top of the house lifts up as if someone is peeking out. As the magician is made aware of this, it drops back down. Next time it goes up, a cute yellow worm peeks his head out over the top of the house. When you look, he goes back inside. Now you lift up the roof trying to find him and the audience sees him behind the front door. Finally, you reach in and pull him out by the tail.
He is going to do a very special magic trick, so you put him back in the house, place the house and tray on your table, and bring out a stand with 6 cards on it. One card is chosen, the cards are mixed up and placed face down on the tray.
Wilbur is taken out of the house and while held by the tail, he sniffs around the cards finally grabbing one in his mouth. When the card is turned over, it is the chosen card! Wilbur is put back in the house and pops up for a bow. As you put the tray away, Wilbur jumps out into the audience for a final laugh filled moment.
This is what you receive...
The gimmicked tray with falling sign and worm launcher
The gimmicked house with lifting roof, the peeking worm, plus the worm behind the door
The gimmicked worm for the card trick plus the card stand and cute kid style cards
The house and tray are made from 1/4 inch PVC plastic. All movements are lever controlled. Custom vinyl graphics.