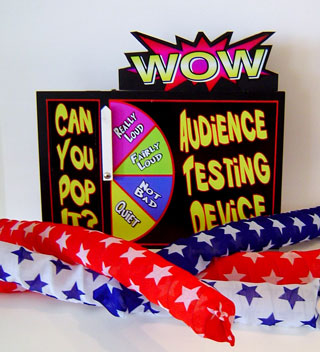 A MAKE-SENSE REASON FOR ASKIN6 YOUR AUDIENCE TO "MAKE SOME NOISE"
The magician tells of a new machine that tests crowd reactions for research. The device has a balloon attached to the top and the audience is instructed to clap and shout to move the needle upwards to pop the balloon. The magician introduces the show and that's the cue for the audience to "Make some Noise!!!"
As the audience starts yelling and clapping, the needle slowly starts moving upward until it reaches the top. Suddenly, the balloon breaks, 4 star-covered spring snakes shoot like fireworks into the air, and a large "WOW" appears on top of the sign.
Feaatures:

>Made of 1/4 inch PVC with custom eye catching graphics
Four custom made spring snakes
Easily operated with 2 levers
Sturdily built with springs metal tracks and nylon gears for years of trouble-free workings
---
Check Availability:
This email address is being protected from spambots. You need JavaScript enabled to view it. Call Kandu